Today, we'll explore the fundamental steps and key insights on becoming an online notary (RON), shedding light on the prerequisites, regulatory framework, and technological tools required to embark on this exciting journey.
Whether you're an aspiring notary public or a seasoned professional looking to adapt to the digital age, this guide will provide the knowledge and resources needed to thrive in the online notarial sphere.
What is an online notary?
As a notary public, you play a vital role in legal transactions by verifying signatures, administering oaths, and attesting to the authenticity of legal documents. A remote online notary, or RON, is a notary public who can perform notarizations remotely and electronically rather than meeting a signee in person.
RON notaries use audio-visual technology to verify the signer's identity and witness the document's signing. This modern approach offers convenience and accessibility, especially when in-person meetings are challenging. Remote online notaries provide more flexibility and efficiency in today's fast-paced world.
How to Become a Remote Online Notary in 4 Steps
The process of becoming a remote online notary can vary by state, but here are the general steps you must take.
Step 1: Check State Requirements
First, familiarize yourself with your state's requirements for becoming a remote online notary. Each state has its own set of rules and regulations.
Many states require you to already have a commission as a traditional notary public to qualify to perform remote notarizations. Some states are exempt, such as Missouri and Idaho. Typically, you must be at least 18 years old, be a state resident, and have a clean criminal record.
To learn how to become a commissioned notary public in your particular state, visit the National Notary Association website.
Step 2: Complete Necessary Training
Many states require notaries to complete specific training programs related to remote online notarization. These programs ensure you're prepared to conduct RONs professionally and securely. You'll learn the RON process and how to comply with your state's RON laws.
There are many different RON training courses available. You can find a list of approved courses on the National Notary Association Online Training page.
Step 3: Select a State-Approved RON Technology Platform
You must choose a reputable and state-approved remote online notarization platform, such as Notary Hub, to perform online notarizations. These platforms are equipped with the necessary security measures to protect you and the parties involved in the transaction.
Step 4: Register with Your State
After completing the required training and selecting your platform, you must register with your state's notary public commission. This process varies from state to state but typically involves submitting an application and paying a fee.
Once you've completed all the necessary steps, you can start working from anywhere!
After You've Become RON Certified
Here are some additional tips to help you succeed as an online notary:
Market your online notary services:

 Once certified, you can begin marketing your services to potential clients. Try creating a website, networking with other professionals, and advertising in local publications.

Provide excellent customer service:

Be responsive to your clients' needs, remain flexible with scheduling, and be patient and helpful.

Stay current on the latest RON laws and regulations:

 RON laws and regulations are constantly changing. You can stay up to date by reading industry publications, attending conferences, and taking continuing education courses.

Use a professional workspace:

 When performing RON notarizations, your workspace needs to look professional for video calls. This means having a clean and well-lit area with a professional background. Also remember to dress professionally and avoid distractions.
What are state RON laws?
State remote online notarization (RON) laws refer to the specific regulations and legislation enacted at the state level in the United States to govern and legalize notarizing documents remotely through electronic means. These laws outline the requirements and procedures for conducting notarizations online, ensuring they are secure, reliable, and compliant with state notary public standards.
Key provisions typically covered by state RON laws include:
Eligibility and licensing

Technology requirements

Identity verification

Notary acts

Record keeping

Consumer protections

Fees

Geographic limitations

Notary training and education

Recognition of out-of-state notaries
Which states allow online notaries?
Currently, 43 states allow notaries to perform remote, electronic notarizations. All but California, Connecticut, Georgia, Massachusetts, Mississippi, New York, and South Carolina have passed RON laws.
Other Frequently Asked Questions
Why should I consider becoming an online notary?
Becoming an online notary offers increased convenience, schedule flexibility, and the ability to expand your services to a broader audience.
How much does it cost to become an online notary?
The costs of becoming an online notary can vary depending on your state's requirements, training fees, and platform subscription costs. State filing and registration fees often range from $20-$100.
How much can an online notary make?
The income of an online notary varies based on factors such as location, demand, and the number of notarizations performed. It can be a lucrative profession in areas with high demand for notary services.
According to ZipRecruiter, the average pay for online notaries nationwide is $62 per hour, $10,809 per month, and $129,717 per year.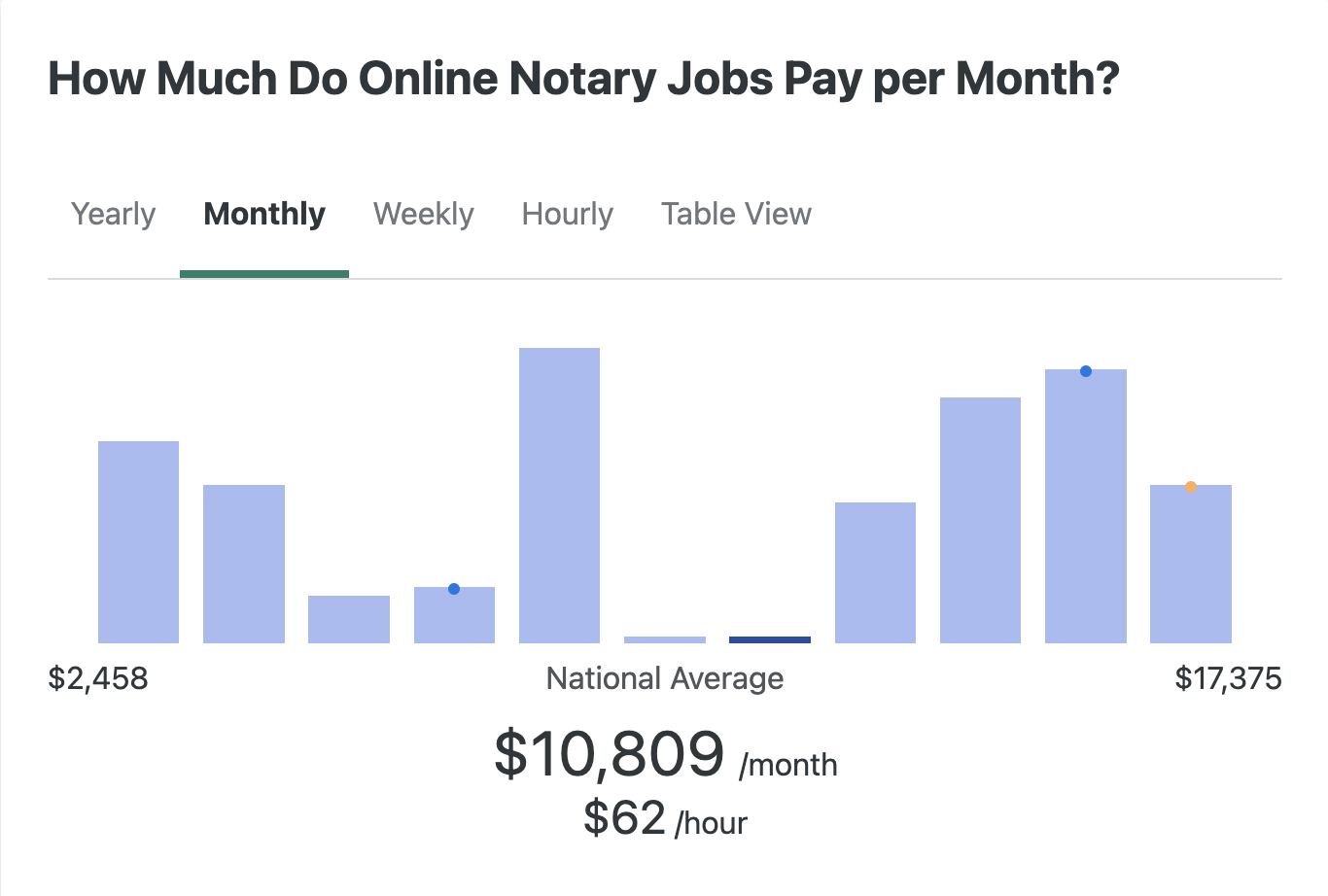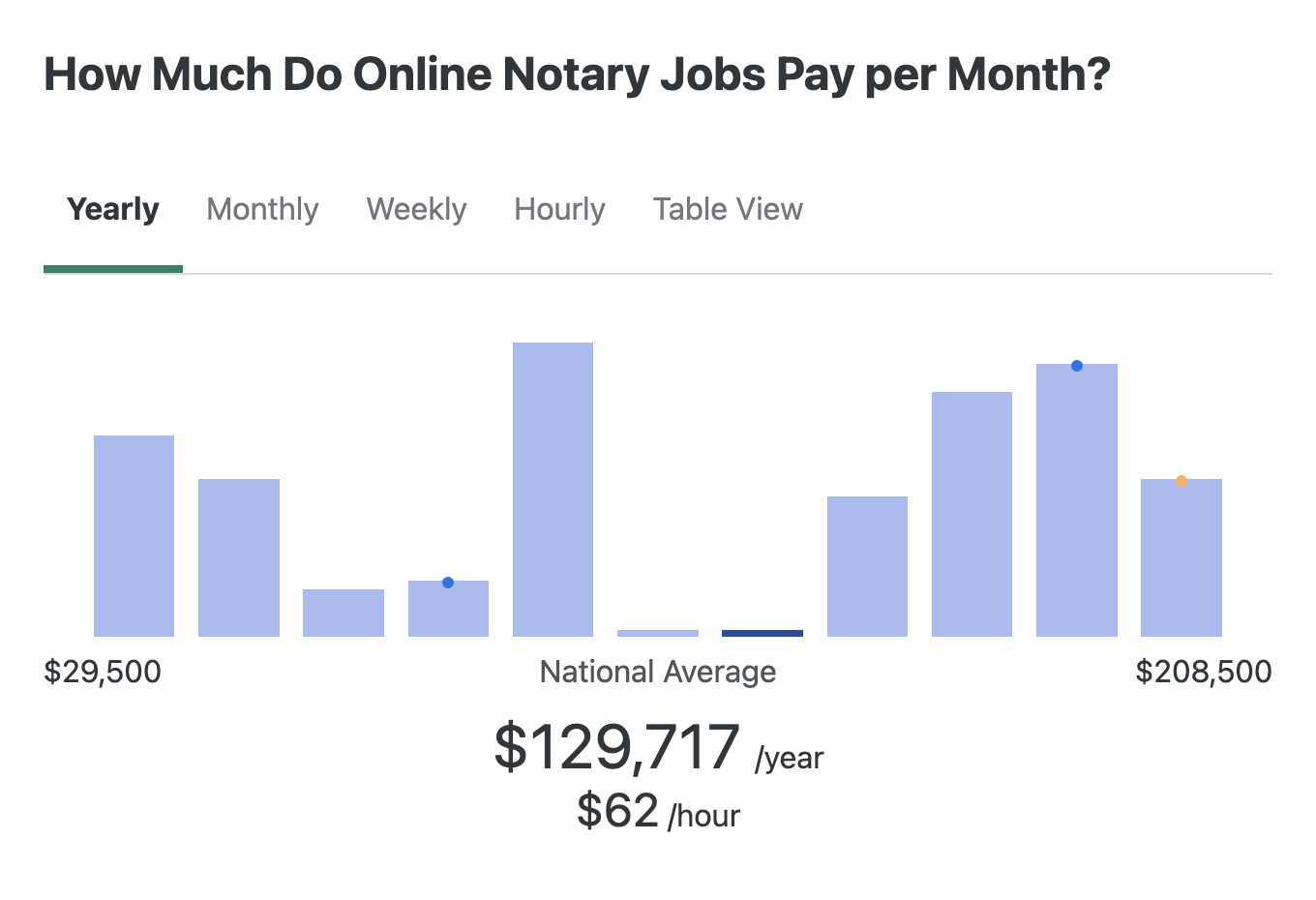 Source: ZipRecruiter
Are online notarizations secure?
Online notarizations must be conducted on secure, state-approved platforms with multiple security measures to protect the integrity of the notarization process.
Why should I consider becoming an online notary?
There are many benefits to becoming an online notary, including:
Convenience:

You can notarize documents without meeting signatories in person.

Speed:

It's generally much faster than traditional notarization, reducing the need for in-person meetings and commute time.

Security:

RON is a secure process that uses the latest technology to protect information.

Accessibility:

It provides access to notary services for individuals in remote areas.

Accuracy:

RON creates a digital record of the notarization process.
Want to become a remote online notary?
By following your state's requirements, obtaining the necessary training, and selecting a reliable RON platform, you can embrace the future of notarization. With the added convenience and accessibility, you'll be well-equipped to serve a diverse range of clients, making your notary journey more fulfilling and prosperous.
If you're interested in signing up to become an online notary with Notary Hub – a MISMO-certified, secure, and trusted technology platform – you can sign up using the link below for a 20% discount.